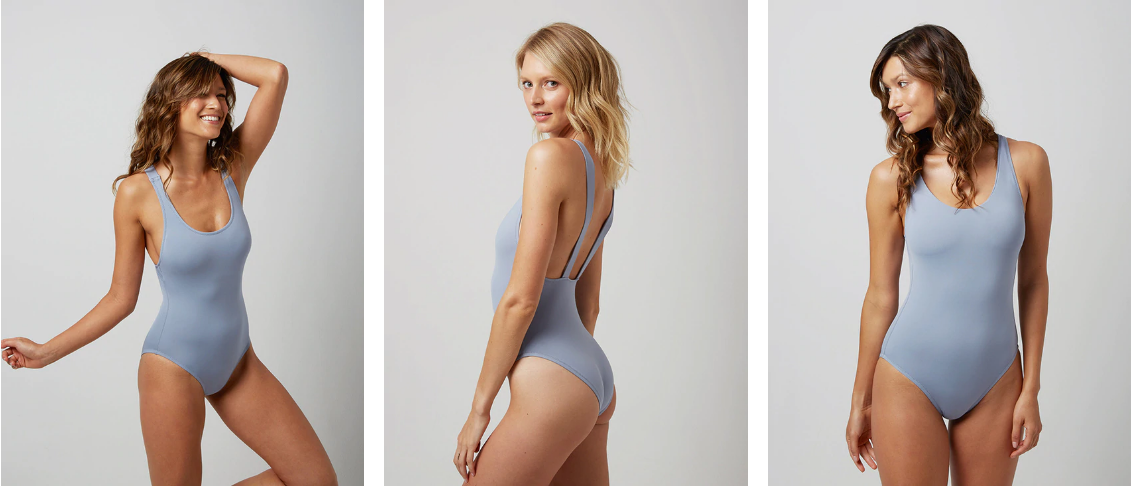 Every woman is unique. And their physique is just as unique. In order to feel good in a bikini or bathing suit, you don't need a perfect beach figure, just the right swimwear. Four women with different styles and figures
Determine your figure type  and find out to which type you fit the most.
A type – the pear shape
Slim torso; curvy lower body; significantly wider hips and thighs; Slim, pronounced waist
Matching swimwear:
bandeau bikinis or swimsuits are perfect for A-types. The narrow upper body is visually broadened by the horizontal strip of fabric, which balances out the proportions.
Classic bikinis and swimsuits with underwire, tankinis and models with eye-catching tops also look great on you, as they draw the eye to the upper half of the body. Choose bikini bottoms and bottoms with high legs as these will make the legs appear longer.
Less recommended:
triangle bikinis and halterneck swimwear with narrow straps, because they make the upper body and chest area look even narrower. Ornaments on the lower part are also to be avoided.
Ideal patterns & colors:
The top can be colorful and eye-catching. The lower part of the swimsuit and bikini bottoms should, however, be as discreet as possible so as not to emphasize the curves on the hips and buttocks.
H-type – the banana shape
Slim, straight stature; Shoulders and hips are about the same width; hardly any curves; small bust size; Little waist
Matching swimwear:
H-types look good as any one piece swimwear. Neckholder, underwire, bandeau and triangle bikinis are ideal. With a cut-out swimsuit with side openings, you create feminine curves and your waist stands out clearly. Push-up swimwear visually increases your bust size. Hip pants with fashionable details also give you more volume. Reach for wide trousers such as hot pants or panties.Less recommended:
Avoid too sporty cuts and designs. These make you look androgynous. Choose swimwear that will cheat feminine curves.
Ideal patterns & colors:
Both the upper and lower part can be bright or wildly patterned. Ruffles, laces and ruffles visually provide more fullness.
O type – the orange shape
Rather narrow shoulders; medium to large bust size; little waist, pronounced tummy; Slim legs
Matching swimwear:
swimwear that draws the focus away from the center of the body, conceals the tummy and emphasizes the slim legs are ideal for O-types. Tankinis are perfect. If you prefer to wear a swimsuit, it should have a wide neckline and underline your beautiful cleavage. The neckline can be equipped with fashionable details such as flounces, ruffles or bows. Swimwear with pre-shaped cups and hangers bring your bust size perfectly into shape. A pareo helps to skilfully cover curves.
Less recommended:
tightly cut bikinis or cut-out swimsuits with side openings.
Ideal patterns & colors:
Large patterns look advantageous because they don't let the eye linger on one spot. A dark color in the stomach area conjures up a narrower waist.